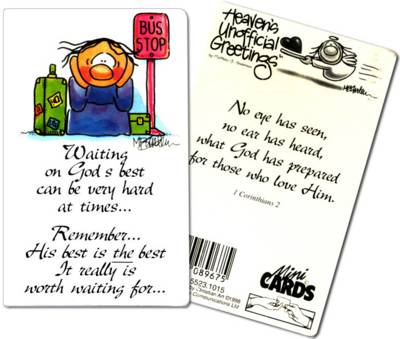 ..continously learning to listen to God.

In these times that I feel change is coming I often bump into this card that a good friend of mine gave to me some years ago; it seams that I am keeping on waitting and waitting for what God has for me... it seams like an endless time, but one thing I can be shore of is that WHAt He has promised, He'll get it done!! So I hope this encourages you all, as it as to me, and in the mist of what ever different phase you are going through life... look to GOD, and He will show you His own perspective of situations. And do not forget GREAT things are ahead us, so keep going!!
[Ah!... talking about perspective... read this article is really interesting and good, it shows how we can be really not looking at life through the right point of view! ]
http://www.24-7prayer.com/cm/articles/612
I had more stuff about friends to share, but I'll do it in another time...
This a time when God speaks through so many ways [ for me it has been like really coming alive again!!He is showing me what is like to be me, to know His Heart] books, people, objects... and there is yet so much to discover also; it's a time I've some difficulty to chose what I'll share; I try to follow a subject, but then everything gets so connected I can't split them into different parts or pieces; Basically is this I can not imagine my life, work, relationships... without GOD!